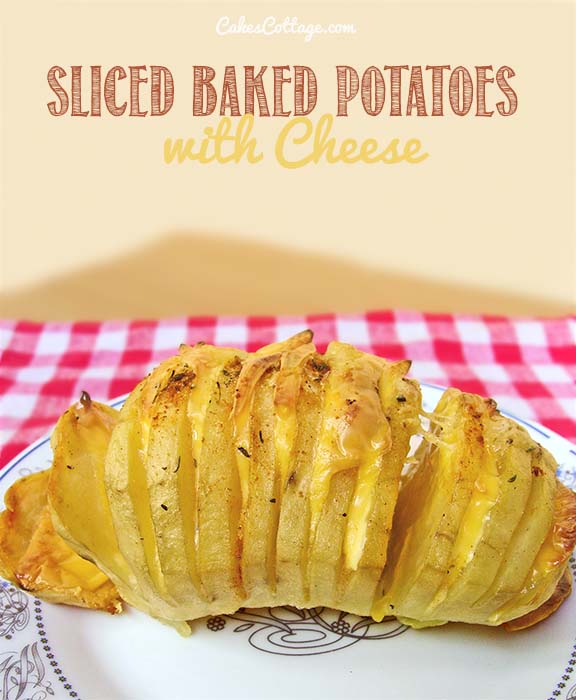 Leave a reply
This entry was posted in Appetizers, Main-Dish and tagged butter, Cheddar Cheese, Potatoes on April 30, 2014 by Dan.
7.3k
1.3k
7
13
Potato slices, stuffed with herbs and cheese.Sliced Baked Potatoes with Cheese
There's something totally delicious about potatoes. Baked potatoes are great. Potato chips are great too. Fortunately, we live in a world where we can have the best of both worlds.
We can thank the Swedes — and the chefs at Restaurant Hasselbacken, in particular — for the invention of this particular style of potato, they discovered that slicing your potato into thin segments before baking can yield crispy edges, and a soft potato center. Once you try a Hasselback style sliced potato, you'll wonder why you waited so long to try it, and it looks like a very fancy side dish, but is actually very easy to do.
Okay, let's move on to today's recipe.
There's something totally delicious about THESE Hasselback style sliced potatoes.
It's called CHEESE.
We know cheese makes everything better, and it totally does in this recipe. Not that these potatoes wouldn't be delicious on their own, aka no cheese, but cheese brings a whole new flavor dimension. To anything.
I know, right? It's totally rocking! So just embrace these potato slices, my friends, stuffed with mashed potatoes, herbs and cheese.
Sliced Baked Potatoes with CheeseThese were a huge dinner success at my house. You can customize the toppings to what each person in your family likes (great way to use up any leftover ham or bacon from the holidays!).
Sliced Baked Potatoes with Cheese
Print
Prep time
15 mins
Cook time
50 mins
Total time
1 hour 5 mins
Author: CakesCottage
Recipe type: Appetiser, Main Dish
Serves: 4
Ingredients
4 large baking Potatoes
salt and pepper
4 tbs melted butter
8 oz Cheddar Cheese or Parmigiano-Reggiano, sliced thinly.
⅛ teaspoons Garlic Powder.
2-3 Tbs chopped fresh herbs (or 2-3 tsp dried):
try basil, thyme, ground red pepper, oregano, chives, or Italian seasoning
Instructions
Preheat oven to 425° F.
Scrub, rinse and dry potatoes.
Keeping potatoes in whole form, cut into ¼-inch-thick slices almost all the way through to the bottom. To avoid cutting potatoes all the way through, place the handle of a wooden spoon next to the potato to stop the knife from cutting too far.
Put potatoes in a baking dish, then fan the slices open slightly.
Slice the butter into thin pieces and stuff them in between every other slice of the potato, without breaking slices off.
Gently sprinkle herbs in between slices and on top of potatoes and sprinkle with salt and pepper.
Bake potatoes for about 40 minutes or until tender.
To test tenderness, pierce a portion of a potato with the tip of a pointed knife or tines of a fork.
Remove dish from oven and insert cheese into slices, being careful not to bust the potatoes.
Return to oven for another 10 minutes.
Remove and serve!

Fuente:
cakescottage.com