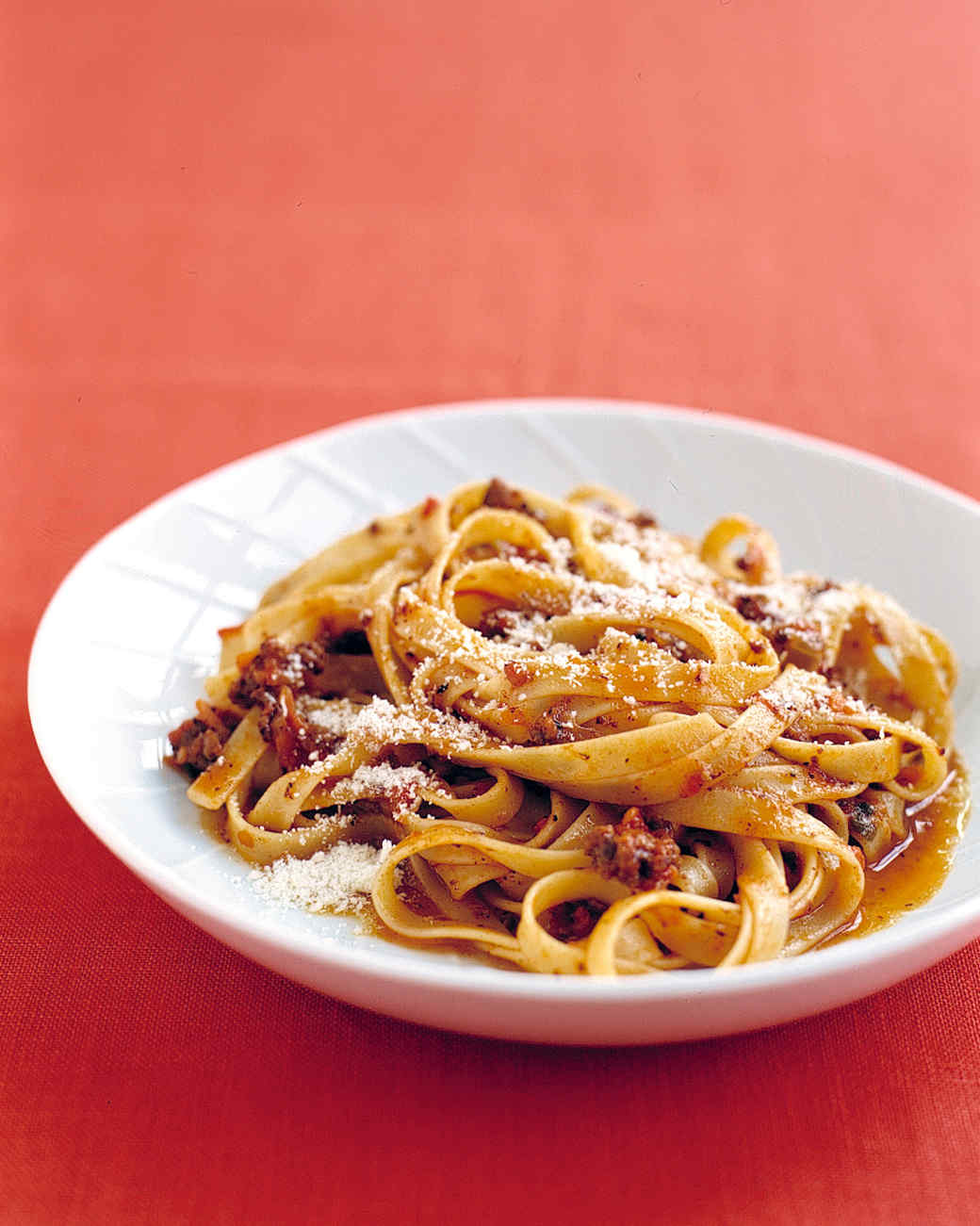 Here is a meaty tomato sauce that doesn't need to cook for a long time to be delicious. The sauce is based on the famed Ragu alla Bolognese (sauce in the style of Bologna). The addition of milk might seem unusual, but it's traditional in northern Italy -- where butter and cream, as well as milk, are essential to the cuisine.
PREP: 15 MINS TOTAL TIME: 30 MINS SERVINGS: 4
3.2 k
SHARES
SOURCE: EVERYDAY FOOD, JANUARY/FEBRUARY 2003
THE FOOD NEWSLETTER
Great tips & recipes delivered to your inbox.
SIGN ME UP
Wooden Spoons
ON SALE
What's on sale near to you
Walgreens
8210 Winton Rd
CINCINNATI OH 45231
Next
INGREDIENTS
4 tablespoons butter
1 tablespoon olive oil
1 carrot, grated (about 1/2 cup)
1 onion, chopped
2 garlic cloves, chopped
3/4 pound ground beef
1 can (28 ounces) whole tomatoes
1/2 cup milk
Milk
$2.99 thru 02/25
1 dried bay leaf
1/2 teaspoon dried thyme
1/4 teaspoon ground nutmeg
Coarse salt and ground pepper
1 pound fettuccine
Grated Parmesan, for serving
Kraft Grated Cheese 100% Parmesan
Buy One Get One 50% Off thru 02/25
DIRECTIONS
Heat butter and oil in a large saucepan over medium. Stir in carrot, onion, and garlic. Add ground beef, and cook until it turns from pink to brown, about 5 minutes.
Add tomatoes and their liquid, crushing them with the back of a large spoon. Stir in milk, bay leaf, thyme, nutmeg, 1/2 teaspoon salt, and 1/8 teaspoon pepper. Simmer 20 minutes.
Meanwhile, in a large pot of boiling salted water, cook fettuccine until al dente according to package instructions, about 12 minutes. Reserve about 1/2 cup of the cooking water; drain fettuccine, and return to the warm pot. Add meat sauce, and toss. Add pasta water as needed if the sauce seems dry. To serve, sprinkle with Parmesan.
COOK'S NOTES
Reserve some of the pasta cooking water, and add a little to the sauce if it seems too thick. The water is ideal for adjusting the consistency of the sauce, and the starch in the water helps the sauce adhere to the pasta.
Fuente:
www.marthastewart.com