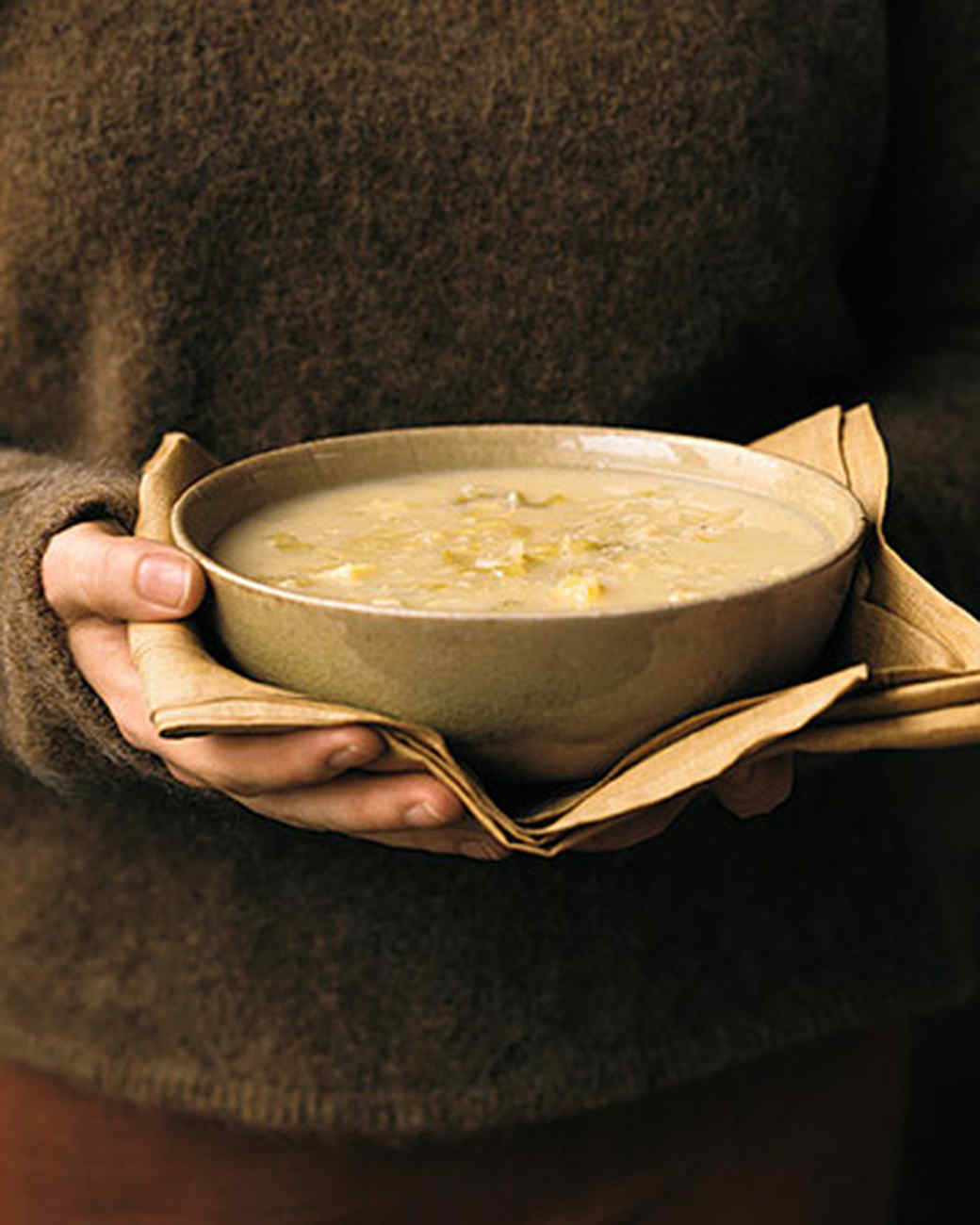 This warm soup gets fresh flavor from rosemary and parsley.
SERVINGS: 8
4.2 k
SHARES
SOURCE: MARTHA STEWART LIVING, OCTOBER 1999
THE FOOD NEWSLETTER
Great tips & recipes delivered to your inbox.
SIGN ME UP
Wooden Spoons
ON SALE
What's on sale near to you
Walgreens
8210 Winton Rd
CINCINNATI OH 45231
Next
INGREDIENTS
2 dried bay leaves
6 sprigs fresh rosemary, or 2 teaspoons crushed dried rosemary
4 sprigs fresh flat-leaf parsley
1 teaspoon whole black peppercorns
3 tablespoons olive oil
4 tablespoons unsalted butter
4 stalks celery, cut into 1/4-inch dice
6 leeks, white parts only, washed well, thinly sliced
4 shallots, diced
6 cloves garlic, minced
2 1/2 pounds Yukon gold potatoes, peeled and cut into 1-inch pieces
8 cups Homemade Chicken Stock, or canned low-sodium chicken broth, skimmed of fat
1 cup milk
Milk
$2.99 thru 02/25
1/2 cup heavy cream
Salt and freshly ground black pepper
DIRECTIONS
Make a bouquet garni: First wrap bay leaves, rosemary, parsley, and peppercorns in a piece of cheesecloth. Then tie with a piece of kitchen twine, and set aside.
Heat olive oil and butter in a medium stockpot. Add celery, leeks, shallots, and garlic; cook on medium-low heat until very soft, about 45 minutes, stirring only occasionally. Do not brown. Add potatoes, stock, and reserved bouquet garni. Bring mixture to a boil, and then reduce to a gentle simmer. Cook until potatoes are very tender, about 40 minutes. Remove bouquet garni, and discard.
Working in batches, pass half of the soup through a food mill, fitted with a medium disk, into a large saucepan. Add remaining chunky soup. Place the saucepan on medium-low heat to warm soup. Slowly stir in milk and cream, and season with salt and pepper. Serve hot.
COOK'S NOTES
If you pass the soup through a food mill it will not be overprocessed; if you use a food processor, just pulse quickly.
Fuente:
www.marthastewart.com