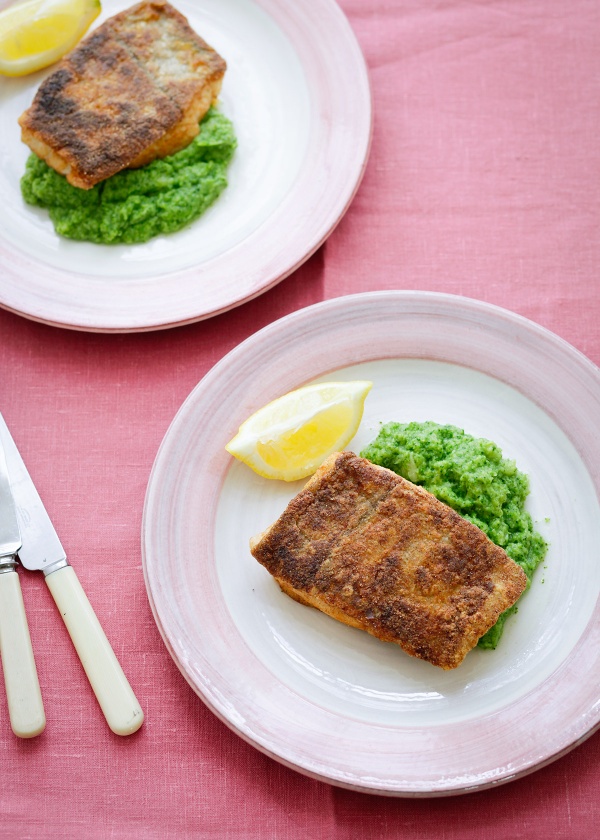 This recipe could hardly be easier, and requires no complication, nor any effort to keep it simple. Good fish, lightly dredged in spiced flour then flash-fried, is an old-fashioned pleasure, and one to be savoured. Here I use gluten-free flour in preference to regular plain flour to coat the fish. I had wanted the slight grittiness of rice flour, but had none in the house, and gluten-free flour (which I did have) contains rice flour and worked fabulously. Obviously, you can use plain flour if you wish. And while the verdiglorious accompaniment may look like old-time mushy peas, it is, in fact, broccoli, blitzed with a stick blender. I use frozen broccoli simply because I find that, cooked in this way, the taste is – counterintuitively – fresher and needs no more added to it than a little salt and pepper to taste, along with the mildest, yet emphatically creamy, hit of coconut. If you cringe at the idea of coconuttiness, however delicate, then use butter or a really good extra-virgin olive oil instead.
Serves
: 2
In the market
- For the broccoli puree
500 g. frozen broccoli florets
2 tablespoons cold-pressed coconut oil (or butter or extra-virgin olive oil)
salt (to taste)
pepper (to taste)
- For the spiced haddock
3 tablespoons gluten-free or plain flour
1 teaspoon ground ginger
1 teaspoon paprika (pimentón)
1 teaspoon fine sea salt
2 haddock fillets (skin on, approx. 350g/12oz total) (abadejo)
1 tablespoon sunflower oil
½ lemons (cut into wedges)
In the kitchen
Put a pan of water on for the broccoli, and when it comes to the boil, salt to taste and cook the frozen broccoli florets (unthawed) for 10 minutes from the time the water comes back to the boil, or until it's tender enough to be puréed. Drain and return to the pan, along with 1 tablespoonful of cold-pressed coconut oil, and set about it with your stick blender, adding salt and pepper and a further tablespoon of oil to taste. Put the lid on and leave while you fry the fish, which is the work of moments.
Get out a plate in which the fish fillets can lie flat, and in it mix the flour, spices and salt, then dredge the fish on both sides, so that the fillets are well coated. Place a cast-iron pan or a heavy-based, non-stick frying pan – into which the fillets will fit neatly – on the stovetop or hob. In the case of the cast-iron pan, heat it before adding the sunflower oil; if using a non-stick frying pan, add the oil first.
When the oil is hot, put both fillets in the pan, skin-side down, and cook for 3 minutes. Turn them over and cook for another 1½ minutes, or until the fish is just cooked through. These timings are based on fillets that are – as you can see – square-ish and quite thick. If yours are thinner, 2 minutes skin-side down, followed by 1 minute on the other side, should do it.
Once the fish is cooked, transfer to a plate lined with kitchen roll while you dollop the broccoli purée onto 2 dinner plates. Add the haddock fillets, crisp-skin-side-up, and eat with calm relish, and possibly a spritz of lemon.
Fuente
:
www.nigella.com