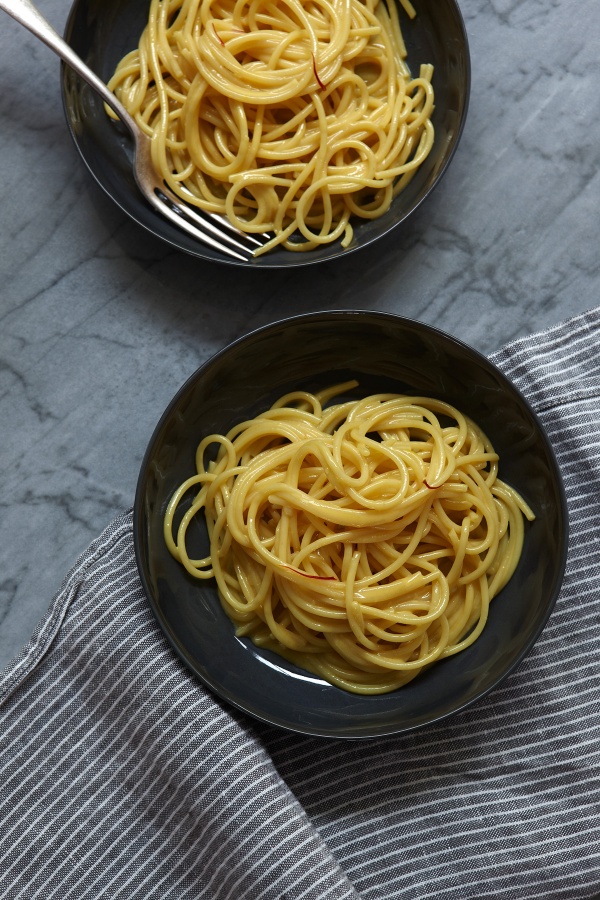 Although this recipe does not itself issue from Italy, the inspiration is entirely Italian. One of my favourite things to eat is a risotto Milanese, sometimes called "risotto giallo" - or yellow risotto - and it occurred to me that pasta cooked similarly, or at least cooked to taste similar, would be perfect, and very easy.
So here it is: spaghetti in an eggy, saffron-tinted, lightly cheesed and creamy sauce: it is a bowlful of golden heaven.
Serves
: 2
At the market
¼ teaspoon saffron strands (hebras de azafrán)
3 tablespoons marsala
200 grams spaghetti
salt (to taste)
2 large eggs
4 tablespoons grated parmesan (plus more to serve)
2 tablespoons double cream
salt to taste
pepper to taste
1 tablespoon soft unsalted butter
In the kitchen
Put plentiful water on for the pasta and at the same time put the saffron and Marsala into the littlest saucepan you have - such as one you'd melt butter in - and when the Marsala starts bubbling, take it off the heat and leave to steep.
When the pasta water comes to the boil, salt generously, then add the spaghetti and cook according to packet instructions, though start testing 2 minutes early. You want to make sure it's al dente, as it will swell a little in the sauce later.
While the spaghetti is cooking, get on with the creamy sauce, by whisking together the eggs, cheese and cream in a small bowl, adding a sprinkling of salt and a grinding of pepper.
Just before draining the spaghetti, remove a cupful of the starchy cooking liquid, then return the loosely drained pasta to its pan along with the butter and toss it over a low heat. Add 2 tablespoons of the pasta-cooking liquid to the saffron and Marsala in the little pan before pouring it over the pasta. Toss straightaway, working the sauce through the spaghetti, and watch the pale yellow of the spaghetti strands take on the deeper tint of the saffron; then remove the pan from the heat.
Now throw the egg, cheese and cream mixture over the pasta, and toss to combine gently but thoroughly, before checking for seasoning and dividing between 2 warmed bowls or plates. Serve with more grated Parmesan on the side.
Fuente
:
www.nigella.com