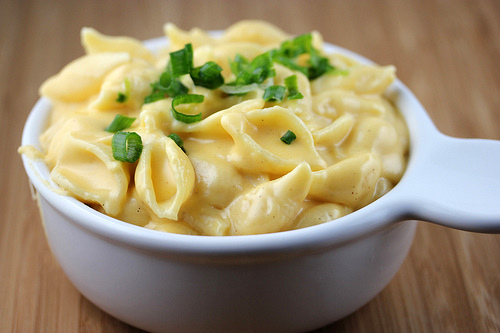 Give this classic kids' favorite a fun twist by using shell-shaped pasta instead of elbow macaroni.
Print Email
PREP TIME
20 min
COOK TIME
20 min
TOTAL TIME
40 min
What You'll Need
•
1 pound shell-shaped pasta
•
1/2 cup frozen peas
•
2 tablespoons butter
•
2 tablespoons flour
•
1 1/2 cups low-fat milk
•
1 1/2 cups low-fat cheddar cheese, grated
•
Salt and pepper to taste
Helpful Tip
All actions involving knife cutting, cooking, and stove usage should be handled by a grown-up. Ask parents if partygoing children have any food allergies.
How To Make It
1Cook pasta as directed on package, adding the frozen peas during the last three minutes of cooking time. Drain and set aside.
2In a medium saucepan, melt butter over medium heat.
3When butter is melted, stir in flour with a wooden spoon until smooth.
4Gradually whisk in milk a little at a time, making sure that there are no lumps.
5Add cheese in batches and stir until completely melted. Add salt and pepper to taste.
6Pour cheese sauce over pasta and peas, and toss until all the shells are coated. Serve hot.
Fuente:
family.disney.com