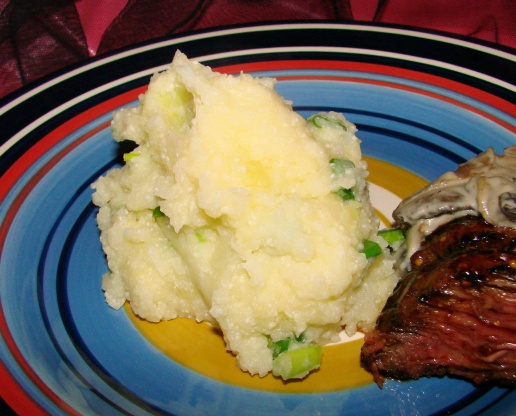 TOTAL TIME
30mins
PREP 10 mins
COOK 20 mins
This recipe comes from the 1983 cookbook, Traditional British Cooking.Skip to Next Recipe INGREDIENTS
Nutrition
SERVINGS 4 UNITS US
8 medium potatoes, peeled, sliced
1 medium onion, sliced thin
1 1⁄2 cups buttermilk (actually ALMOST 1 1/2 cups)
4 green onions, trimmed
2 tablespoons unsalted butter
1⁄8 teaspoon salt, to taste
1⁄8 teaspoon ground pepper, to taste
DIRECTIONS
In lightly salted boiling water, cook potatoes until just tender, about 15-20 minutes, then drain.
In a saucepan over low heat, cook the onion in buttermilk for 5 minutes.
Add onion & buttermilk to potatoes & mash well, to a creamy consistency.
Finely chop green onions & beat into the potato mixture along with the butter, then season with salt & pepper, to taste.
Fuente
:
www.food.com