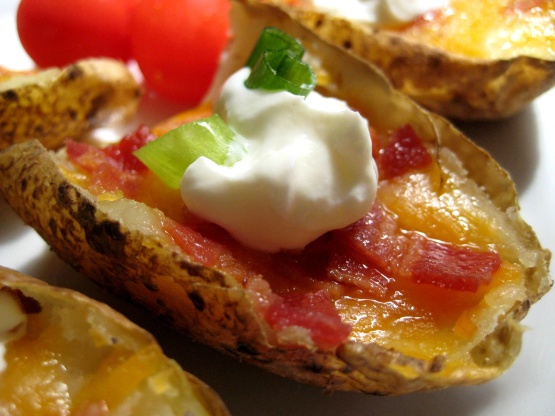 ~SarahBeth~ 95.00%; (4)
TOTAL TIME
25mins
PREP 10 mins
COOK 15 mins
DH and I just saw this on a re-run of Paula Deen the other day! It sounded so good! I had some leftover baked potatoes so we turned them into these! We only used cheese and the sour cream mixture on ours but cover with your favorite fixins! It is really the grilling that makes them sooooo good! Serving size depends on if they are your meal or a side or an appetizer!Skip to Next Recipe INGREDIENTS
Nutrition
SERVINGS
2-4
YIELDS
8 potato skins
UNITS
Metric
2 large russet potatoes, baked
59.16 ml butter, melted
salt and pepper
236.59 ml shredded cheddar cheese
6 slice bacon, cooked and crumbled
236.59 ml sour cream
29.58 ml prepared horseradish
44.37 ml sliced green onions
118.29 ml chopped tomato
chopped chives, for garnish
DIRECTIONS
Cut potatoes in half.
Preheat grill to medium heat.
Scoop out the pulp, leaving a 1/4-inch thick shell for the toppings. Cut the potatoes into quarter wedges, brush all over with butter and season with salt and pepper.
Place on grill and cook until crisp, about 10 minutes. During the last few minutes of grilling, remove potatoes and place on a cookie sheet. Top the potatoes with cheese and bacon and place back on top of grill.
While potatoes are grilling, combine the sour cream and horseradish in a small bowl and mix well.
Place potatoes on serving plates and top with the green onions, chopped tomatoes and the sour cream horseradish sauce. Sprinkle with chopped chives, for garnish.
Fuente:
www.food.com