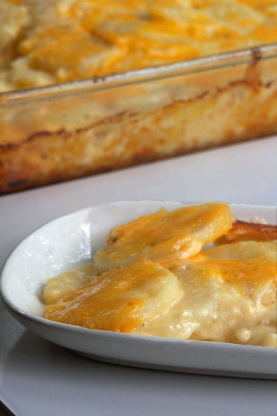 SaraFish 95.20%; (22)
TOTAL TIME
1hr 10mins
PREP 10 mins
COOK 1 hr
Easy potato dish that's real comfort food! Simple and rich, made fresh at home with common pantry ingredients. Never buy a box of Betty Crockers Scalloped Potatoes again! Easy to halve the measurements to make a 4 serving size.Skip to Next Recipe INGREDIENTS
Nutrition
SERVINGS 6 UNITS Metric
1onion, chopped
59.16 ml margarine
59.16 ml flour
2.46 ml salt
1.23 ml pepper
473.18 ml milk
118.29 ml half-and-half
1419.54 ml potatoes, peeled and sliced
473.18 ml cheddar cheese, shredded
DIRECTIONS
Use a big pot.
Saute chopped onions in margarine til soft but not browned.
In small bowl, combine flour, salt and pepper.
Stir flour mixture into onion mixture then add milk and half and half and stir and cook over medium heat until mixture begins to thicken (about 3 minutes).
Turn off heat.
Add 1 1/2 cups shredded cheddar to the sauce and stir til melted and smooth.
Add sliced potatoes and stir well to combine.
Pour mixture into a 9 by 13 casserole dish that you have sprayed with Pam.
Cover with foil and bake at 350 for 35 minutes.
Remove from oven, take foil off and sprinkle reserved 1/2 cup cheese over top (or more as desired).
Return to oven to bake another 30 minutes or so or until potatoes are soft, cheese is melted and edges begin to lightly brown.
Let stand a few minutes before serving to allow sauce to thicken.
Fuente:
www.food.com