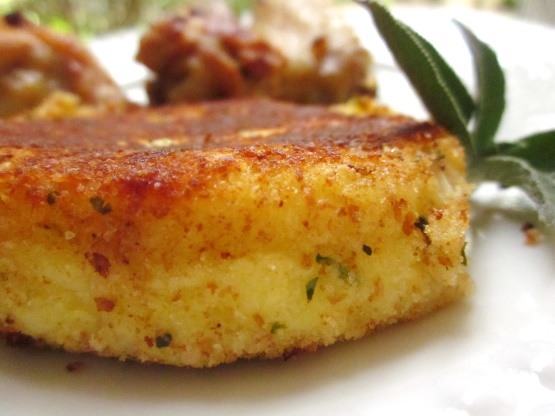 WiGal 99.00%; (21)
TOTAL TIME
18mins
PREP 10 mins
COOK 8 mins
Croquettes are delicious with steak and Spinach Stuffed Mushrooms and strawberries dipped in chocolate. They should be shaped into patties and refrigerated ahead of time. The timing here does not include the chilling time. I have changed the directions about refrigerating the patties ahead and the number of patties after looking at the kind reviews. I do love this recipe and hope you do too.:)Skip to Next Recipe INGREDIENTS
Nutrition
SERVINGS 4 UNITS Metric
473.18 ml mashed potatoes
29.58 ml minced onions
1egg, slightly beaten
44.37 ml grated parmesan cheese
29.58 ml parsley, minced
177.44 ml breadcrumbs
29.58 ml vegetable oil
DIRECTIONS
Combine potato, onion, egg, cheese, and parsley in medium bowl; blend thoroughly.
Shape into 8 patties. At this point, you should refrigerate them.
Spread bread crumbs onto waxed paper. Dip croquettes in crumbs, turning to coat evenly; set aside.
Heat vegetable oil in large skillet on moderate heat. Place croquettes in hot oil; cook about 4 minutes, or until brown on each side. Serve hot.
www.food.com