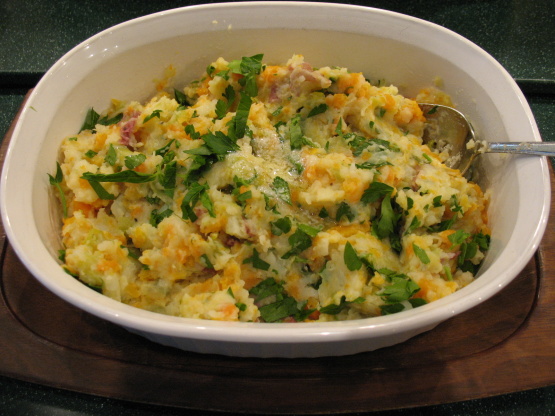 TOTAL TIME
40mins
PREP 20 mins
COOK 20 mins
A different and colorful twist to an ol' Irish favorite. Great on St. Pat's Day or anytime you have a taste for corned beef. This can easily be pared down for fewer servings. All ingredient amounts can be "winged".Skip to Next Recipe INGREDIENTS
Nutrition
SERVINGS 6 UNITS Metric
907.18 g red potatoes, scrubbed & quartered, DO NOT peel
3 large carrots, peeled, halved and cut into 2-inch chunks
453.59 g green cabbage, cored and chopped into 1 inch pieces
1parsnip, peeled, halved and cut into 2-inch pieces (optional)
6-8scallions, cleaned and sliced with green tops
78.07 ml fresh flat leaf parsley, course chop
59.16-118.32 ml butter, softened
sea salt
59.14 ml half-and-half cream, for thinning if desired (OPT)
2.46 ml black pepper
DIRECTIONS
In a Dutch oven or deep pot, layer ingredients, bottom to top> Potatoes, carrots, cabbage, scallions.
Cover the potatoes and carrots with cold water, just enough to cover potatoes and carrots. The other vegetables will steam during cooking to desired tenderness. Add salt to taste.
Bring to a boil, then reduce heat to maintain a gentle simmer. Cook, covered until potatoes are near fork-tender, carrots crispy tender, about 15-20 minutes.
Drain and return all ingredients to pot.
Mash the mixture while adding butter and parsley. The potato mixture should be coursly mashed & thick. Add milk for thinning if desired.
Serve hot with sliced corned beef.
NOTE: if it's too thin, add instant potatoes until desired consistency is reached.
Fuente:
www.food.com