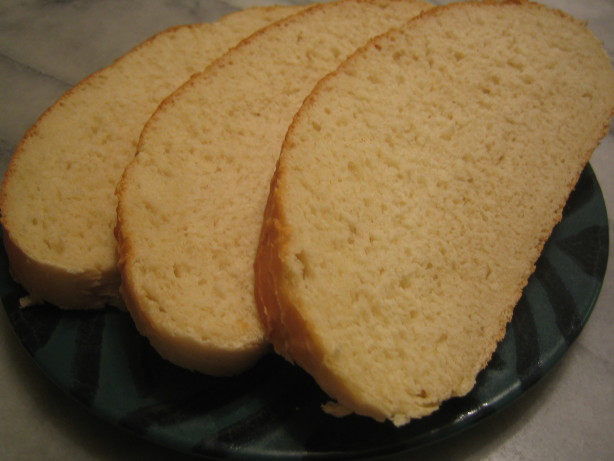 TOTAL TIME
1hr 5mins
PREP 20 mins
COOK 45 mins
Easy bread recipe taking about 3 hours from start to eating. First-timers can be successful with this bread if they aren't intimidated by the slight stickiness of the dough. This is an adaptation from Bernard Clayton's New Complete Book of Breads. The loaves are soft and evenly textured.Skip to Next Recipe INGREDIENTS
Nutrition
YIELDS
2 loaves
UNITS
US
2 medium potatoes, peeled and cut in smallish chunks
2 cups water
5 1⁄2 cups bread flour or 5 1⁄2 cups all-purpose flour (approximately)
4 1⁄2 teaspoons dry yeast
1 tablespoon kosher salt
2 tablespoons sugar
1⁄4 cup butter
DIRECTIONS
Boil the peeled potatoes in the 2 cups of water in a saucepan until fork tender.
Place 3 cups of flour with yeast, salt, and sugar into a mixing bowl and blend.
After potatoes are tender, reserve liquid, and rice (or mash) the potatoes.
Add riced potatoes back into pan with the 1 3/4 cups (add more water if you don't have the total amount reserved) reserved liquid, and add the butter, heating until butter is just melted.
Pour the butter/potato mixture into the mixing bowl with the flour mixture.
Mix with paddle until blended and then change to dough hook to incorporate more flour by 1/4 cupfulls (adding a total of another 2 cups equalling 8 additions or a bit more until the hook and dough rotate easily together).
Knead with the dough hook for 10 minutes.
(dough will remain slightly sticky).
Place dough into a large greased bowl and cover with plastic wrap allowing to double in volume; about 1 hour.
When fully risen, punch dough down and move to a floured surface.
Slice into 2 equal pieces.
Flatten one piece into a long oval, fold in half lengthwise, pinch that seam, fold under the outer ends, and place into a loaf pan.
With other piece, cut into 3 equal parts, rolling each piece into a long cylindrical piece with your hands.
Braid these 3 pieces together, pinching and tucking in ends and place on a greased cookie sheet.
Cover both loaves with waxed paper (or parchment) and allow to rise for an additional 40 minutes.
During the last 20 minutes of rising time, preheat oven to 400 degrees Fahrenheit.
When fully risen, place both loaves in preheated oven and bake for 15 minutes.
After those 15 minutes, lower heat to 350 degrees Fahrenheit and continue baking for an additional 25-30 minutes until slightly golden and hollow sounding when tapped.
Remove from oven and immediately and carefully place on racks to cool.
Fuente:
www.food.com